Super Power: Champion for Justice
BIRTHPLACE:
Brooklyn, New York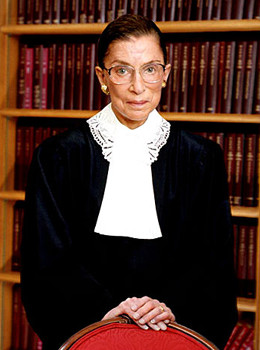 Ruth Bader Ginsburg
March 15, 1933 to Present
Photo Credit: By Steve Pittway via Wikimedia Commons.
About ...
In 1993, Ruth Bader Ginsburg was appointed as a Justice of the Supreme Court of the United States. She was the second confirmed female justice after Sandra Day O'Connor.
Before becoming a judge, Justice Ginsburg fought for the advancement of women's rights in the 1970s. In her 50 years of being a lawyer, judge, and Supreme Court Justice, she presided over some of the U.S.'s most important landmark cases and became a pop culture icon.
Special Facts ...
Named one of Forbes 100 Most Powerful Women in 2009
Named as one of the Time Magazine 100 in 2015
Famous Quote:
"My mother told me to be a lady. And for her, that meant be your own person, be independent."