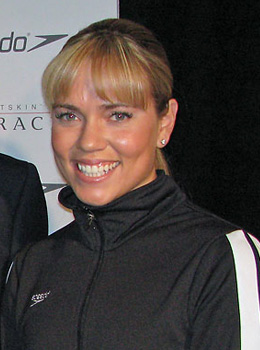 Natalie Coughlin
August 23, 1982 to Present
Photo Credit: By NASA/Kathy Barnstorff
About ...
Natalie Coughlin is an American swimmer and was the first woman ever to swim the 100-meter backstroke in less than one minute!
At the 2008 Olympics, she became the first U.S. female athlete to win six medals in one Olympiad, and the first woman to win a 100-meter backstroke gold in two consecutive Olympics.
Special Facts ...
Winner of 12 Olympic medals
Earned the World Swimmer of the Year Award and American Swimmer of the Year Award three times
Accomplished chef and entrepreneur
Famous Quote:
"Without goals, training has no direction."