BIRTHPLACE:
Skopje, Macedonia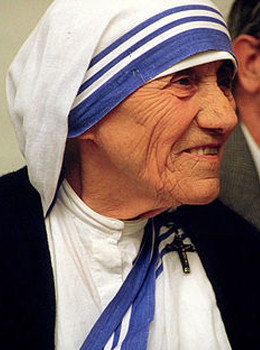 Mother Teresa
August 26, 1910 to September 5, 1997
Photo Credit: By Túrelio via Wikimedia Commons.
About ...
Mother Teresa was a Roman Catholic nun. She devoted her life to helping the poor and disadvantaged people around the world, especially in Calcutta, India, where she served for almost 50 years. She won the Nobel Peace Prize in 1979 for her dedication to serving the poor in India.
Special Facts ...
Brokered a temporary cease fire during the Siege of Beirut so she could rescue 37 trapped children
Awarded India's highest civilian award, the Bharat Ratna
Famous Quote:
"We ourselves feel that what we are doing is just a drop in the ocean.  But we would be less because of that missing drop."