BIRTHPLACE:
Atchison, Kansas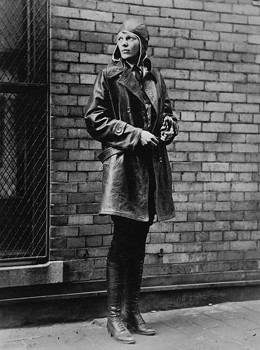 Amelia Earhart
July 24, 1897 to circa January 5, 1939
Photo Credit: By Tekniska Museet via Wikimedia Commons.
About ...
Amelia Earhart was an American aviation pioneer and author. She set many flying records and wrote best-selling books about her flying experiences.
Amelia Earhart wanted to attempt what no one had done before – fly around the world. However, in 1937, Amelia Earhart and her plane disappeared over the Pacific Ocean, which is an unsolved mystery to this day.
Special Facts ...
First woman to fly solo across the Atlantic Ocean
Member of the National Woman's Party
Supported the Equal Rights Amendment, which gave women the right to vote in the U.S.
Famous Quote:
"The most effective way to do it, is to do it."